"Disneyfication" op-ed
"While I'm thrilled and appreciative of Juneteenth becoming a national holiday; however, I'm less thrilled and thankful for the way the media is attempting to impose its master narrative on it to frame our collective memory of it," writes Harold E. Creacy. Read more here.
---
Connect to worship
We are still able to worship together despite the pandemic. Join us each Sunday via Zoom by following this link. Service runs from 9:45 a.m. to 11 a.m.
---
Dulatown documentary
Dulatown is a documentary short about a community in Lenoir, NC established from land a slave owner bequeathed to his slave. Dulatown remains home to the extended Dula clan and embraces its history at a bi-annual reunion where in recent years both African-American and White Dula relatives come together around their shared genealogy to acknowledge they have more in common than just a surname. Watch the video here.
---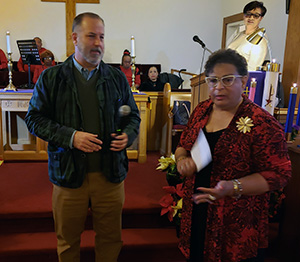 Pantry receives grant
The Presbytery of Western North Carolina recently awarded Dulatown Community Food Pantry $15,000 through the Nickel-A-Meal Hunger Grant to help feed the hungry and speak up for the poor and needy in their community. The funds will go to purchase food to be directly provided to those suffering from food insecurities.
---
66 books/66 verses
Download the list of selected verses from all the books of our Bible by clicking here.
---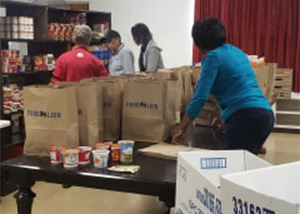 Food pantry re-opens
Dulatown Presbyterian Church of Lenoir is excited to announce their Community Food Pantry is now open again. Clients in need are welcome to stop by on the 1st and 3rd Wednesday of each month between 1:00pm - 2:30pm. Many thanks are due to the faithful volunteers provided from Seventh Day Adventist Church of Lenoir, Dulatown Presbyterian Church of Lenoir, Dula Chapel Baptist Missionary Church of Lenoir, and Antioch Baptist Church of Morganton. It wouldn't have been made possible without these dedicated folks coming to helping this ministry. They have volunteered hundreds of hours cleaning, painting, and working hard to restore the Food Pantry to it's full potential. Food is provided to the community by donations and grants. Partnerships with Second Harvest Food Bank of Winston-Salem and Food Lion of Hudson also help provide food to fill the shelves. Stop by if you're in need!
---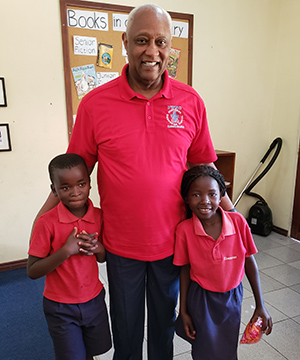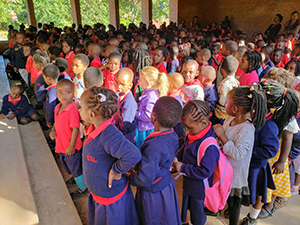 Malawi trip 2019
Rev. Bennett with his "adopted" children from the Ebenezer School in Malawi during a Presbytery mission trip in May. The lower photo shows a gathering of all the school's students.
---
Good reads
Our congregation's members came up with a list of some good books to put on your reading list.
America's Greatest Sin by Jim Wallis
Where Do We Go From Here by Martin Luther King, Jr.
Let God be God by Ray Stedman
The Explicit Gospel by Matt Chandler
The Cross and the Lynching Tree by James Cone
Knowing God by J.I. Packer
Who Moved My Cheese by Spencer Johnson
Sacred Cows: Exploring Contemporary Idolatry by Tony Walter
---
Ask the Pastor
We have a new feature starting on our Facebook page called Ask the Pastor. You can join in the conversation here.
---
Our new library
Revitalization of the new library is close at hand. There are are sections devoted to Women and Children plus a media center. Come stop by, grab a book, relax or use the internet if you need.
---
Our pastor now a doctor!
The Reverend Dr. Harold J. Bennett II, our Senior Pastor, just finished his doctorate degree at Pittsburgh Theological Seminary where he received his Doctoral of Ministry.
---
Coffee Shop Ministry
The Coffee Shop Ministry at Dulatown continues to be an event that participants look forward to for spiritual engagement, fellowship, and fun. This ministry is held as a luncheon meeting on the second and fourth Wednesdays, March thru September, and participants voluntarily contribute to the success of this ministry through their warm and welcoming outreach to anyone who may be interested in joining us. The favorite activity following lunch is BINGO for all; hosts as well as participants contribute a variety of gifts — some practical, some decorative, some amusing. An open invitation exists for anyone desiring to attend and be a part of this ministry.
---

Youth Career Fair
Dulatown Presbyterian Church hosted its third Youth Career Fair in August. (See photos here) Four professional presenters shared their amazing career paths and offered suggestions and encouragement to middle and high school youth who attended the fair. Cassandra Patterson shared her career in Social Security administration; Eric Boston, education and preparing well for the future; Janiene Jones, Homeland Security and Border Patrol; and Edward Jones, NASA and diverse opportunities. Lunch and time for fun and games were built into this very special day.
---
Photos from Malawi
View photos from our pastor's recent trip to Malawi as a part of the Presbytery's mission trip by clicking here.

---
Feed, educate a child
The Pastor and Mrs. Bennett have agreed to support two children's education in Malawi, Africa at the Ebenezer School. Find out more.
---
We need a van
Dulatown Presbyterian Church is in need of a 16 passenger Youth Van. If you would like to make a donation, please press our "Give Online" button to your left on our website. At the donate now website, in the note section, please indicate that you are donating to the 16 passenger Youth Van. Thank you for considering our need!
---